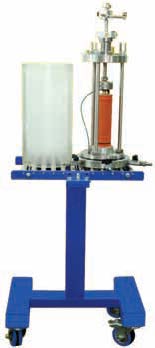 Triaxial Cell With Accessories
Standard Triaxial Cells can accommodate sample size, ranging from 38mm to 100mm diameter with an L/D ratio of 1:2. It is suitable for both Static and Dynamic tests (Compression & Extension). It has a submersible load cell connected to the transfer bar. Linear bearings ensure smooth movement of the transfer bar (plunger). The base of the cell has four no-volume change valves, one each for back pressure, pore pressure, confining pressure, and top drainage. Sensors for pore pressure and back pressure are attached to the stainless steel base.
Tests Possible : Static & Dynamic (Compression/Extension or both)
Confining Pressure : Up to 1000 kPa
Specimen Size : Up to 100mm diameter & 200mm height
Submersible Load cell: ±5kN, ±1kN, ±2kN or ±10kN (Optional)
Note: High-Pressure Triaxial cell up to 2000kPa can also be supplied as per requirement.
Please specify the capacity of the Load cell along with the order)
Accessories:
As standard the following accessories are supplied along with the Triaxial Cell: –
Supplied complete with one top and bottom loading pad, two porous stones, two Perspex disc, one sheath stretcher, one split sand former, 10 latex rubber sheaths, and four sealing rings for 38, 50, 75, 100mm dia samples.
Note: Triaxial Cell up to 200mm diameter & 400mm height can also be provided on request