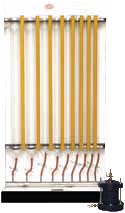 Universal Permeameter
Suitable for both constant head as well as falling head
permeability tests. The apparatus consists of :-
i) A wooden stand fitted
with nine glass stand
pipes of diameter
ranging from 6 mm
to 75 mm. A 75 mm
dia tube is fitted with
an overflow pipe. A
rubber bung with brass
tube is provided for
constant head tests.
ii) Permeability mould
1000 ml capacity with
detachable collar, 50
mm high, one base
plate, metallic perforated
swell plate and a
solid false bottom plate
for compaction of soil.