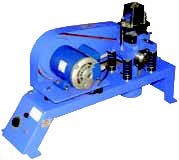 Vibrating Machine
The machine is used for compaction of 70.6 mm cube specimens of cement mortar under standard vibration required for determination of compressive strength of cement. The vibration machine consists of a frame mounted on four coiled springs to carry a cube mould and an eccentric revolving shaft mounted in ball and roller bearings. The machine is so balanced that the eccentric imparts simple harmonic motion to mould carrier and the mould. The frequency of vibration is 12000 ±400 per minute. The drive from the motor to the eccentric shaft is through an endless flat belt running on crowned pulleys.
Suitable for operation on 220 V, 50 Hz, single phase supply. Supplied complete with a time switch, one 7.06 cm I.S.I. marked cube mould (HC42.10.1) with hopper.
NOTE : The machine can be supplied with NCCBM/ Sriram Test House certification on request.